The pro's and con's of micro trains
Micro Trains are often the first port of call for those that are looking to get into small-scale model railroading. On this page I want to take a little look at the positives and negatives of working with this company.
Firstly, this company produces some incredible stuff. All of their manufacturing is done in America and is created to exacting standards. This way you can be sure that when you purchase a Micro Trains vehicle you are going to end up with something that will give you many years of useful service life.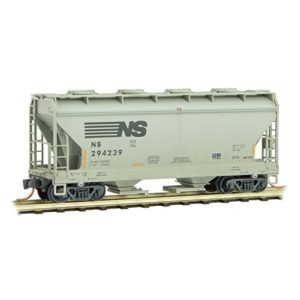 The range that Micro Trains offer is also huge. In fact, imagine any popular train and you are sure to find it in the Micro Trains range. Despite the small size these vehicles are detailed incredibly well. In fact, in my opinion they are far better detailed than some of the trains produced by companies that specialize in larger scales. One of the things that I love about Micro Trains is that you have vehicles which are unique. You will not find them with any other manufacturer. They can help to add a touch of character to your model railroad layouts. For example, you may wish to purchase a vehicle which is strewn with graffiti. This is all too often a common site on our railroads nowadays so it is something that looks great. They are constantly expanding their range too, and from what I have been told, they are also open to suggestions so if there is not something that you want on offer then drop them an email. Who knows, it may be launched at a later date!

This is one of only a few companies who offer smaller scale vehicles. This of course is a benefit. However, it can also be a bit of a downside. You see, since they are one of the only companies that offer small vehicles you are pretty much going to need to purchase from them if you wish to build up your set. This means that the prices are sort of high as they know you will not be able to get the vehicles from anywhere else. To be honest with you though, this is something that I am happy to live with. After all, you certainly get your money's worth with these vehicles when you see the build-quality and the detailed put into them.

One of the downsides of working with Micro Trains is that there are very few places that you can actually purchase their vehicles outside of North America. There are a couple of places scattered around the globe but these are few and far between. Sure, you can import their vehicles, but you do have to factor in taxes on top of this. This can of course mean that the price of the vehicles gets pretty high quite quickly. However, it is certainly worth it if you wish for trains that are highly detailed for your small-scale model railroads.