The 10 HO Train Buildings You Have to See
One of the best ways to make our layouts seem much more 'lifelike' after the addition of scenery is the addition of buildings. After all, it's unlikely you would ever catch a train going for hours upon hours without encountering any life right? There are destinations to go and people to see! In this article I want to share with you some of what I think are the coolest HO Train
Buildings that you are ever likely to see. I have decided to opt for 'normal' looking buildings to ensure that they will fit in with most layouts.
Passenger Station Kit by Atlas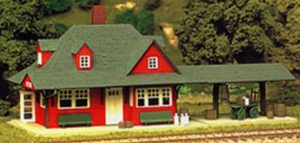 This is absolutely gorgeous. Despite harking back to 'times of old" this particular kit should be able to fit into any layout with ease, after all, those older buildings in smaller villages still exist today. Whilst there are many passenger station kits in the HO Train Buildings range I do find that this is one of the best as it is very 'historically' accurate when it comes to the colours. This is a must buy for anybody planning a village station.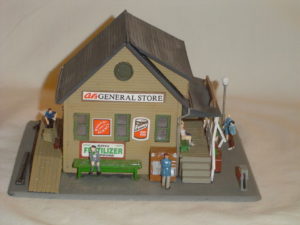 Sure, the main cities are dominated by 'massive' superstores nowadays. However, if you head out into the 'sticks' a little bit you will find that general stores like this one are going strong. You will be enthralled by the amount of detail on this building. Again, like passenger station kit, this should fit into almost every layout.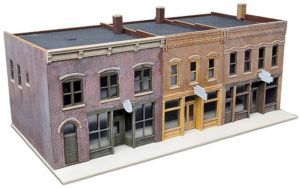 What if you don't want to create a village? What if your current village is expanding? Then you are going to need a lot of shops, and Merchants Row is going to be one of the best bets for you. It is absolutely stunning and comes with a number of shops all connected together. To cap it off, some 'people' are included in the kit to help add to the realism.
Kentucky Fried Chicken Drive In by Life-Like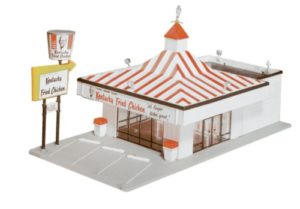 Whilst this is one of the HO Train Buildings which won't fit in to every layout, but it is a personal favorite of mine. This KFC is actually sublime when it comes to detail, both the inside and outside can be fully customized. In fact, that's a whole project in itself. This is of course the 'older style' KFC buildings, so if you are going to be fitting it into your layouts, ensure that the time frame is right.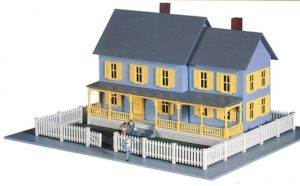 Even if you are trying to create a landscape which is almost all mountainous ranges and plains, there is bound to be a farm on the track sooner or later, which means this Farm House is going to be a worthwhile addition. Don't forget to purchase livestock to go with it to increase that effect!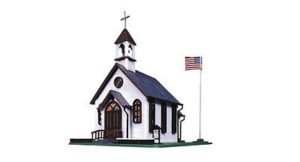 I love this building, it is very much a traditional 'American' church, and it is one of those HO Train Buildings which can fit into almost every layout, whether you are planning a sprawling city or nothing more than a small village. You would expect to see this church in either of them. Which is why I always have one of these in my arsenal when I am planning new layouts!
Hampden Fire Engine House by Life-Like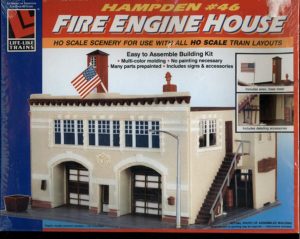 Again, another of the HO Train Buildings which can fit into any time frame, although to be perfectly honest this is going to be better in your 'city' layouts due to its size. This is an incredibly detailed building with a range of accessories to choose from which means you are going to have a ton of fun playing around with one of these and truly making it 'your own'.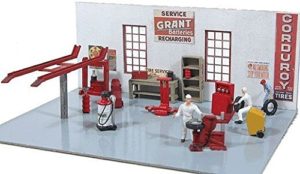 For me, every layout (from the modern era at least) needs to have a gas station somewhere. I find that this is one of the best to choose from, particularly if you are going to be sticking it out in the 'middle of nowhere'. It is very detailed, although you may want to replace the vehicle it comes with for something slightly better.
Refreshment Stand Kit by Atlas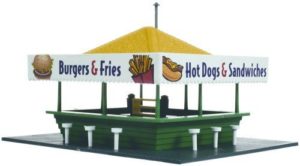 Planning on adding a beach front to you layout? Perhaps a carnival? If so, you absolutely need this building. It is a real traditional refreshment stand, which of course, like other Atlas products is highly detailed. I am sure you will be able to fit it into any layout you want.
Comet Wooden Roller Coaster by CoasterDynamix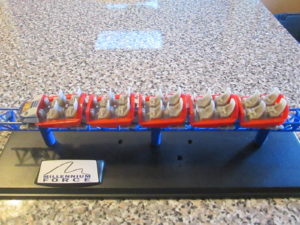 I must admit, this isn't an accessory you will be fitting into every layout, but it is worth a mention. This is an absolutely huge building which really does work! It really can add a whole breath of fresh air to your train layouts. For me, this is an A+ as it really is one of the best buildings i've ever seen.
In my travels to bring you the best HO Train Buildings I encountered over 4,000 different objects, which certainly does show you how much there is to choose from out there. This is what I feel are the best, but I could be completely wrong. I suggest you take a browse through all of the buildings on offer and take your pick based on what you want from your layout.