Bachmann Digital Commander Review
In recent years the world of model railway has changed. No longer are enthusiasts having to set up rather extravagant control systems in order to have multiple trains on their layouts, nowadays it can all be done from one control center. This is known as Digital Command Control, or DCC for short. The Bachmann Digital Commander is designed to make this new way of 'modelling' as accessible for people as possible. Let's take a little look.
In case you are unaware, Digital Command Control is designed to allow you to control multiple vehicles from the same control point. The one in the Bachmann Digital Commander box has the ability to control up to ten vehicles at the same time, so it certainly is something that you are going to be using for a long time during this hobby. One of the biggest gripes I had about DCC in the past is that it was far too difficult for newcomers to the hobby to get started in. The problem is, to really experiment you need multiple vehicles at your disposal, and of course you need the controller. The majority of sets on the market contain only one locomotive, and sadly a rather lackluster control system. The Digital Commander breaks this norm though, in the box you have two vehicles which can be controlled by the system straight away. In my opinion this is absolutely fantastic for newcomers to the hobby as they don't really need to shell out a great deal of money for a rather extravagant controller, and because it includes two vehicles you can start to experience one of the best aspects of running model train layouts straight off the bat.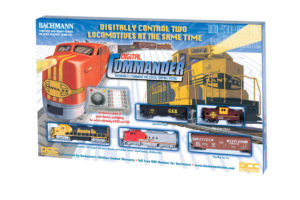 In my experience, operating a DCC isn't easy. In fact, the first one I purchased I had a bit of difficulty getting to grips with it. However, in the Bachmann Digital Commander box, you have full instructions on how to set up some simple programming to ensure your layout runs smoothly. It is actually a pretty good quality DCC as well, and if you ever intend to expand your layouts you will also be able to use it in conjunction with locomotives that are available from some of the other manufacturers out there, and that is always a plus point, after all, nobody wants to be shelling out even more money in the future right? The only downside here is that it is one of the cheaper DCCs on the market, but it should be good enough to teach you the basics, and that should be what counts!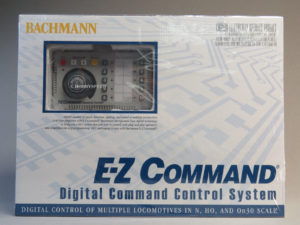 As you can probably guess, the Bachmann Digital Commander is designed to get people into the DCC hobby, and thus it is pretty cheap. That being said however, the trains that come included in this set are actually pretty decent. They are modeled after vehicles that originally traveled on the Santa Fe line. They are supplied with a couple of freight cars and a caboose. From my experience they tend to run pretty smoothly. The only downside however is that they are not as detailed as they could be, but that is OK, it is only a starter set overall.
The included track here is the fantastic Bachmann E-Z Track system. It is a delight to assemble, and the roadbed support here is so good that it doesn't need to be stuck down onto anything. If you wanted, you could even run it on a bit of carpet! The downside here is that you aren't really supplied with a lot of track, which is a shame as you will be running two locomotives. Thankfully for you though, it is the standard HO Train Scale which means you will be able to use any manufacturer's pieces, and this should be incredibly simple to source.
Pros:
Great starter set for those looking to get into DCC
Good manufacturer with fantastic customer support
High quality trains and control system in the package.
Competitive price
Cons:
Not enough track supplied in the box for two vehicles running at the same time.
Lack of detail on the trains
Not enough accessories.
So is the Bachmann Digital Commander worth a purchase? In my opinion it is, especially if you are not up to date with the latest advancements in DCC technology. Whilst it does have its downsides, these are easily rectified by purchasing more track or accessories, but they shouldn't be too bad in the short term, after all, it is designed to get you enthusiastic about using DCC.